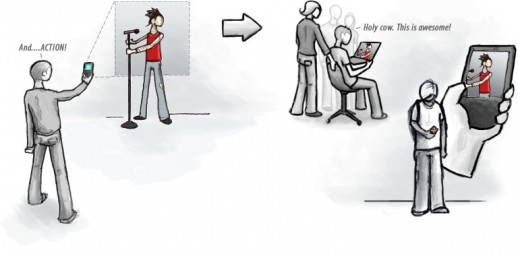 Qik.com pioneered the "visual tweet" last year, with the help of people like Ashton Kutcher and Demi Moore, sending out one-to-two minute video messages to themselves and to the world.
In its next new media move, Qik launched a new desktop app they dub Qik-in-Touch in private beta. The app allows users to stream, organize and edit live video from friends and family on Windows, Mac and Linux-based computers. This seems to be a welcome ability among those who engage in visual tweets. Qik was one of the first developers to release an iPhone app that allows you to shoot and share live video from the 3GS iPhone, that proved to be quite popular among users. It did not steam live, though, like this new app does.
Qik-in-Touch connects via WiFi or via AT&T's much maligned 3G network and will alert your friends when you have a new stream to share via Twitter.
It should be noted, however, that UStream beat Qik to the starting gate earlier this month when Apple approved a version of its software that streams live from the phone to multiple users.  One of its useful features is live polling!  Instant people data!
Such things excites us here at Ninthlink – we get giddy with new media tickling of the skin when cool new stuff like this comes out from innovators out there.  It makes us want to excel and succeed on the same path, for us and for our clients.
Every day, something new and exciting is happening in the new media world.  We could spend all day playing with the nifty new apps and tech coming out today, and tomorrow.
[image courtesy of www.phonereport.info.  To remove any part of this blog, please email or comment in the box below]