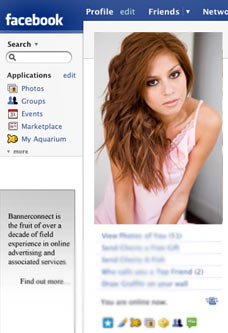 Facebook's vanity URL launch  is at 12:01 ET tomorrow or 9:01 PT tonight. The change will replace cumbersome geeky URL codes with place names that follow the facebook.com address; the place to stake your claim is facebook.com/username.  It is admonished  that users will want to choose their handles carefully because they will be difficult to undue. "Think of it as a cyber tattoo," says a nameless Facebook employee.  Generic names like "baseball" aren't being allowed. Also, given the increasing importance of Facebook as a marketing vehicle and search engine trigger, marketers and owners of trademarked names are going to want to reserve their names with the site as soon as possible.
Facebook is taking steps to protect against speculators who try to claim names that don't belong to them. Only users with FB "Pages" with more than 1,000 fans as of May 31 can reserve their vanity URL tomorrow to prevent millions of upstart pages from sprouting up overnight. Facebook is also allowing trademark owners to register their names here as a preventative measure. Legal firm Day Pitney LLP recommends taking this action immediately for your most important trademarks.
Prediction:  MyFace, the inevitable merger of Facebook and MySpace. There's already the new facesearch, so why not?