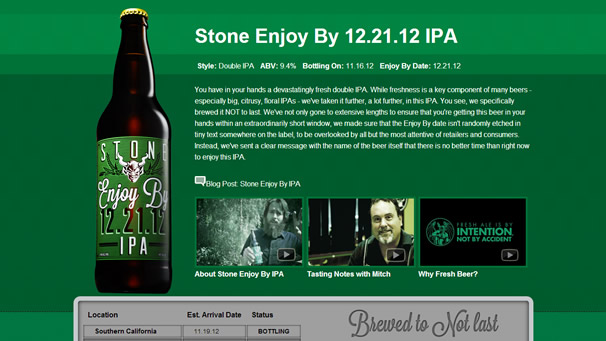 I don't think it is any secret that we here at Ninthlink enjoy beer, from time to time at least. And it certainly won't be any secret in another week or two. Why? Well I guess that is still a secret. But what should be no secret, is that Stone Brewing Co. is releasing another batch of their "devastatingly fresh" "Enjoy By" IPA! Bottling today, with an Estimated Arrival Date of Monday around the nation.
The idea being that you need to go out and get this IPA while the hops are still at their most freshest. Because the lupulin from the hops is (some of?) the first to break down in an IPA that has not been enjoyed fast enough? There's even a handy map telling you where you can find this next round of Enjoy By, close to you! … as long as you are close to California, Illinois, Indiana, Iowa, Kentucky, Massachussetts, Missouri, New Jersey, New York (city), or Texas
Just be sure to drink yours by 12.21.12, you know, to get the full super fresh flavor of the hhhhhops. And also just in case the Mayans were right…
Devastatingly Fresh. Brewed to Not last.