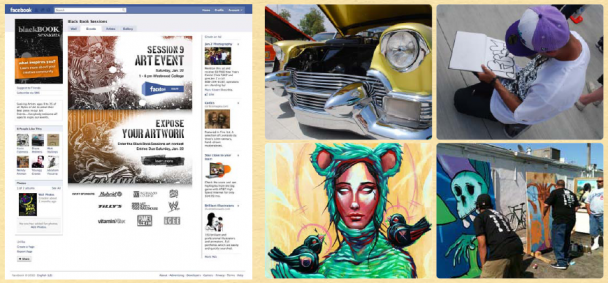 Ninthlink partnered with Blackbook Sessions to help deliver a vision for the future of how kids learn, inspire, and contribute to the local community.
Blackbook Sessions is a non-profit organization that empowers and inspires young and emerging talent. Over the past three years, Blackbook Sessions has sponsored a series of live events, or "Sessions," providing youth an avenue for discovery, education and rewards evaluated through a panel of industry, business and community leaders.
Attendees are encouraged to bring sketchbooks or notebooks to capture opportunities, exchange drawings with artists in attendance and take notes during live demonstrations. Parents, teachers, guardians and community leaders are welcome to attend.
As a supporter of the local arts and the Southern California community, we are proud to have been part of the redesign and development of their website, BlackBookSessions.org, which enables them to highlight and promote their upcoming events, blog activity, and of course, the rad artists.
In addition to BlackbookSessions.org, we had the opportunity to do design work for both their Facebook and Twitter social media accounts. Each are integral communication channels to help them stay connected with the community, connect with new audiences and keep their followers up to date on the latest news regarding upcoming events and opportunities to get involved.
'What Inspires You?'
Was the tagline created for our 2011 marketing initiative, which focused on engaging teachers, the community, and youth with the prospect of rethinking education. One of the hot topics is "How to bring more relevant education to young people" both in the classroom and outside of the classroom. We have invited friends, family, artists and clients to consider how we are approaching our daily school assignments, creative projects, experiences with friends, career opportunities, new company initiatives and much more- through a truly inspired agenda, based on community focused events.
If you are interested in learning more about Black Book Sessions, or how you can get involved, visit them online, or check back frequently for information on their next event: Black Book Sessions No. 10arget="_blank">event: Black Book Sessions No. 10