Deep down inside, I think we all want to be a contribution to others — whether friends, family, business, community, world — the list goes on and on. Ninthlink loves our Southern California community and we Love the Arts, so we would like to invite you to share in Black Book Sessions commitment to empowering and inspiring young talented minds on January 22nd in Anaheim.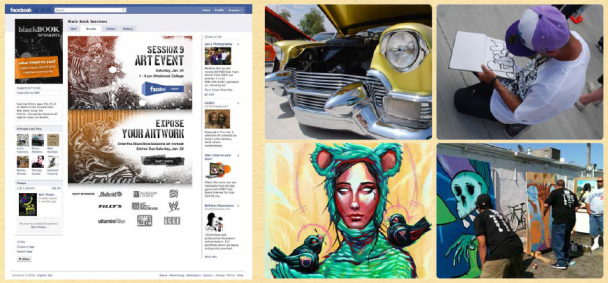 Black Book Sessions No. 9 is a culture-based educational forum that introduces young people to established professionals and community leaders through a series of hands-on demonstrations, live events and art contests featuring celebrity judges: Weeman, Jeff Soto and Brian M. Viveros. Live art demonstrations will feature digital production techniques, painting exercises and urban painting installations presented by national artistic talent on Saturday, January 22 from 1 PM to 6 PM.
Attendees are encouraged to bring sketchbooks or notebooks to capture opportunities, exchange drawings with artists in attendance and take notes during live demonstrations. Parents, teachers, guardians and community leaders are welcome to attend. Entertainment for all attendees will include: face painting, live music, prizes, artistic awards, creative learning and food. (Please note: meal tickets available for purchase).

Black Book Sessions is a non-profit organization that offers young talent (ages 9 to 25) free workshops to
learn and experience commercial art, T-shirt design, painting and drawing from regional creative professionals
and culture-based companies. Black Book Sessions, formed in 2008 by Hybrid Apparel, a leading
US based apparel, design and distribution company, actively works with top Fortune 500 fashion brands.