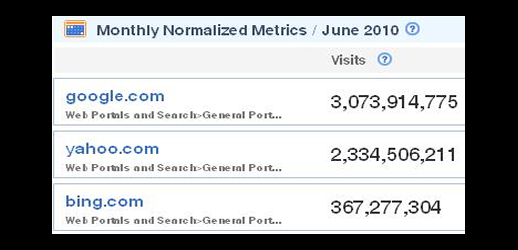 If not, you aren't getting the most out of your website and chances are your competitors, those who are actively involved in SEO and other Search Engine Marketing tactics are taking advantage.  According to compete.com, in June of 2010 alone, Google had close to 149 million unique visitors, while Yahoo! had 134.3 million, followed by Bing with just under 60 million.
The 'unique visitors' metric only counts a person once, no matter how many times they visit the site.  I am certainly one of the 149 million to use Google's services and easily search a couple of hundred topics a month (I did at least 30 before finding these numbers!)
If you aren't ranking high enough in search engines, chances are you're missing out on a lot of opportunities.  Whether they be sales, sign ups, or simply the amount of page visits and traffic your site generates.
By having an SEO strategy, you can greatly improve your site's rankings in important search engine indexes and make sure your site is getting in front of the right people, at the right time, when they are actively seeking your products or services and most likely to visit your site.