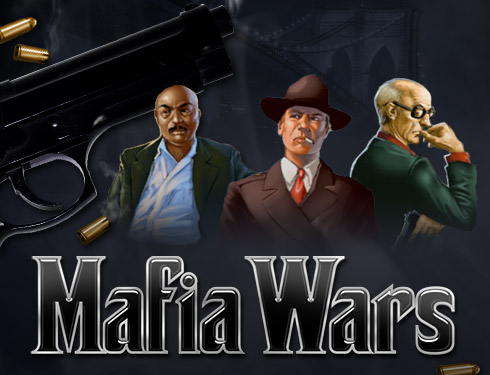 The Chatter
Have you been haring this lately around the office and coffee houses, "Mafia Wars is addicting"?  Or: "I've been spending a lot of money on Mafia Wars."
The online game is a good example of digital economy platforms, where money operates in the virtual world of the game and in the real world with revenue profit and charitable efforts.
You can buy points in Mafia Wars, and gain more weapons, power, and position.  Depends on how much you want to spend.
What?  Never heard of Mafia Wars?
The Game
It's a multiplayer game created by Zynga. It was the 2009 Webby Award People's Voice Winner in the Games category, and is available on Facebook, MySpace, Tagged, Sonico, and Yahoo!. On April 8, 2009, Zynga released a version of the game as a free downloadable iPhone App.
On Facebook, Mafia Wars has more than 25.9 million monthly active accounts  Some players and clans create multiple accounts to utilize the benefits of the three basic character builds available: Fearless, Maniac, and Mogul.
Mafia Wars is set in New York City and Little Italy, with the option for players to travel between New York, Cuba, and Moscow, This year, Las Vegas will be added
The game revolves around doing and mastering jobs in order to earn cash and experience, with the goal of establishing and advancing one's criminal empire. Players create mafias by recruiting players and using reward points to hire extra mafia members. Social networking sites such as allow players to recruit from within their network of friends to build their mafia and fight against other players.
Players can also improve their stats by visiting the Godfather or making a micropayment, which is where this unique method of revenue comes into play.
As they level up, more jobs and features become available, such as the ability to visit Cuba to expand their criminal empire.
Character Classes
There are three classes that a person can choose at level 9. Each class offers a reduced amount of recharge time to one of the three timers.
Maniac: This class has an energy recharge timer of 3 minutes, unlike the other two classes which have a timer of 5 minutes.
Mogul: This class receives money from properties every 54 minutes as opposed to the usual 60, as well as a 5% increase in profit from businesses in both Moscow and Cuba. Moguls with Rackets will get 10% more cash from their rackets.
Fearless: This class receives a health recharge time reduction — every 3 minutes as opposed to the usual 5)
Haiti
As if predicting Haiti's future need, on December 17, 2009, it was announced on the Official Blog that 50% of the sale of limited edition — Haitian Drum — would be donated to FATEM, a non-profit organization that works to provide economic advancements for the Haitian community of Mirebalais.
On January 14th, 2010, it was announced that 100% of all contributions to Zynga's Haiti Relief Fund, provided by purchasing new limited edition item "Haitian Relief Drum", would be donated to help the people of Haiti who are suffering from the earthquake on January 12.
Real World/Game
Cultural critics may find ironic fault with real world crime syndicates being popularized in game form.  But the Mafia has always been a pop culture sensation in the movies, TV, comic books, and novels since the success of the romantic adventures of crime in The Godfather.  So why not in a game?
This is an example of game monetization, which we believe will be a bigger trend in 2010.  First there was advertising within games, creating revenue for the brand, so it seemed likely that other forms of generating money would follow.
For those of us concerned with online marketing and ROI, this is definitely something to pay attention to.