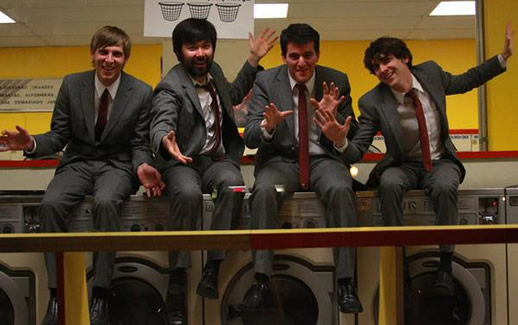 This Saturday, August 16th, Ninthlink favs The Modlins reunite with their friends The Roman Spring, plus special guests Hello Sunshine, to rock the Radio Room, formerly known as the Zombie Lounge, on El Cajon Blvd. The show is to help raise money for friends participating in Team In Training, getting ready for a marathon up in San Francisco later this year. The Team In Training program and the marathon itself will raise money for the Leukemia and Lymphoma Society, and this concert is a benefit to help the friends on their way. There is a $5 cover charge, and a raffle will be held as well that night, with 100% of the proceeds from the raffle AND the door going to the race fund. So come support the cause, and get a healthy dose of rock and roll to boot. Flyer for the show, after the jump…
For more info, check out the post on The Modlins' blog, which (the blog) conveniently has the same name as their latest album, With Friends Like These, which has been nominated for Best Pop Album at this year's upcoming San Diego Music Awards.
So, seemingly unrelated, but I think it follows : Modlins play Benefit show this Saturday, Modlins album nominated for Best Pop Album, and Kanye West releases a video for his song Champion the same week. I think it flows, right?