It's Sunday night. I'm checking my last batch of emails before I turn in to bed. Typically, Sunday night emails are left for Spam but not tonight – not on this night. The message I read was from Google – sent to the webmaster/ owner/ optimizer of many sites (me). The note was short and sweet, and very simple to interpret. Moving forward Google will be notifying ME of all major issues, as they pertain to the health of our websites. If the issue is severe enough, Google will be giving us the actual details of the issue and will let us know if it persists. Google will even "cap" the number of emails, so they won't become a burden to us.
While this may not sound like "news" to most, it signifies a radical change for those people that have been in the SEO Advantage Industry for a long time. To specialize in it, I too have been taking classes at http://chazedward.com/local-seo-coaching/, which I recommend you check out if you want to master SEO marketing.
What this means is that there will be no more guessing at what a potential problem might be but instead we will be getting information on the exact issue and learn some helpful tips for optimization. In addition, we will be receiving action steps on how to fix the issue. This notification should be a welcome sigh of relief to not only optimizers but to anyone that owns a website.
Below is a screenshot of the email notification from Google so you can read it for yourself.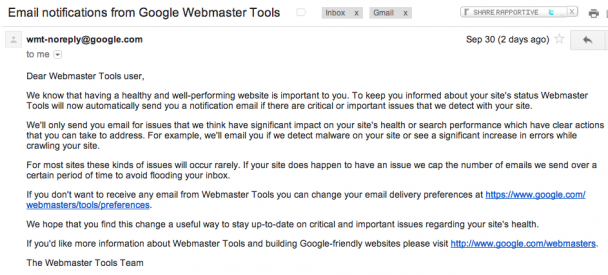 Could this be a kinder, more gentler Google? Absolutely! I know we sing the praises of Google often but this is a huge step forward in closing the communication gap between Google and website owners.