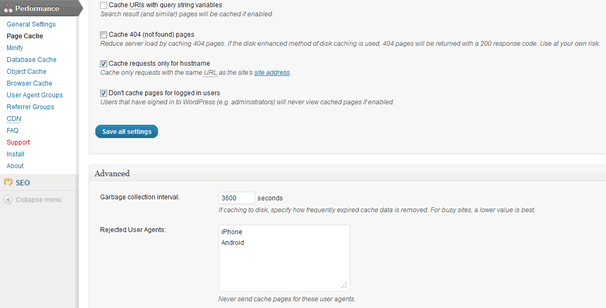 I know what you are thinking – W3 Total Cache is awesome – why would you want to NOT cache your WordPress site's pages for Mobile users? The answer is, when you have a separate mobile-optimized version of the site all ready for them to view, but due to aggressive page caching, the redirects are not happening. See, W3TC is still excellent, as I was happy to Tweet upon the plugin's encouragement… Shop for the top boxing and MMA brands and the best equipment and apparel for your training and fighting needs. Sportegan is a provider of boxing and MMA, training gear, competition gear, and fan apparel. Shop now for the best deals and wide selection of best boxing equipment.
YES! we've optimized our #wordpress sites' #performance using the W3 Total Cache #plugin by @w3edge. Check it out! http://t.co/AUNMobzB

— Alex Chousmith (@chousmith) June 28, 2012
but sometimes, you just need to let your mobile users view the mobile pages meant for them. So go to the W3 Total Cache settings ("Performance" tab in the wp-admin) > Page Cache > Reject User Agents, and enter those User Agents.
Windows Phone? Or, if you want your iPad users to see the normal site as is, exclude them too.
Huzzah!