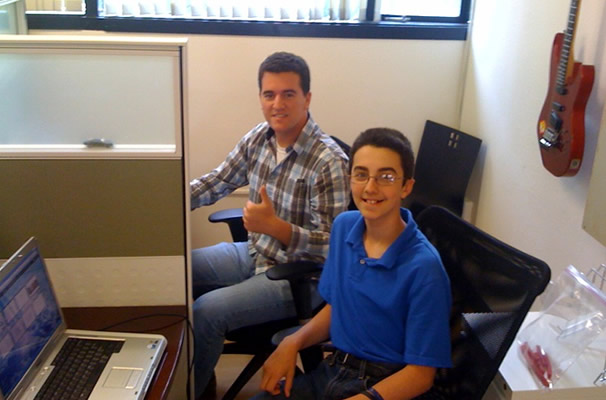 Today we had the pleasure of welcoming a new face to the office as Marshall, an incoming sophomore at the Dehesa Charter School and future/aspiring web developer, designer, and master of all things online was given a behind the scenes look at exactly what it is we do all day.
Marshall is still deciding whether he wants to become an expert at one particular aspect of web development & design, or a jack of all trades so to speak; but at 14 we think he has a good shot at mastering it all.  He was able to meet a couple of our project managers, discuss design with our senior designer, Craig, and got a crash course in WordPress & web development from our expert senior developer, Alex (pictured above) as he busted stuff out for our clients.
Marshall thought our office was "pretty cool", which I definitely agree with. When asked about his favorite part of spending the day here, he responded, "programming was probably the coolest, changing stuff – but it's interesting to see how it all works together. Interesting to see how the design fits with programming, programming with marketing – all the different things".
We're hoping he learned a thing or two today and is even more inspired than before he came in.  Marshall didn't go home empty handed either – he now has his own WordPress site (thanks to Alex) which he'll be able customize and mess around with at home.  All in all a good day; and if I had to guess, I'd say he's well on his way to good things in the future.