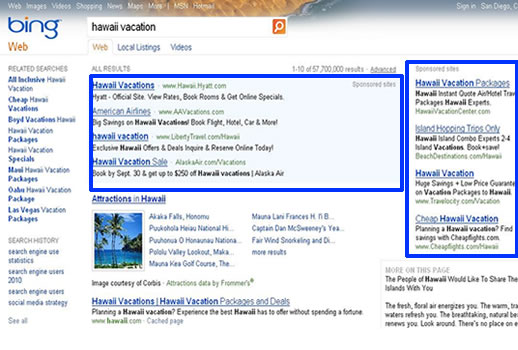 For those who would like to get the benefits out of Search Engine Marketing, but don't have the time or patience to wait for results to occur organically/naturally via SEO, a pay-per-click (PPC) campaign may be the option for you.
PPC Marketing allows you to reach the top of search listings much faster than if you were to strictly rely on SEO.  This is because you can pick and choose which keywords or phrases you would like to show up for in a particular search engine and be certain to get a first page listing.  While a guaranteed first page placement may sound expensive, it's actually very efficient.  This is because you only pay when prospects actually click on your advertisement and visit your website.
Due to the efficiency of the medium and ability to focus on a specific area, pay per click ads are a great way to promote short term or seasonal offerings, enhance your branding efforts and generate exposure online.
Since PPC listings are basically ads for your site and aren't dependent on your site's content, you don't need to do anything to your site in terms of content optimization (although it's highly recommended to do so anyway).
Where Will Your Ad Display?
PPC ads are usually displayed as sponsored sites, or links and occupy the very top and right column of the results page (outlined in blue in the image above).  Results are often shown with a different color background than non-sponsored results, further differentiating them from the natural results appearing on the page.
Another resource:  for learning the differences between and advantages of PPC and SEO.