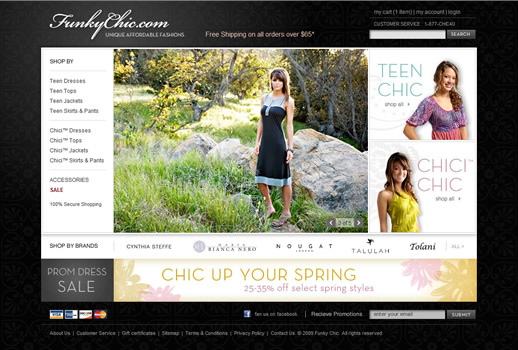 Another week down, another site launched. FunkyChic.com is an Ecommerce site selling "Unique, Affordable Fashions For Women & Teens" via the CS Cart system. They came to us for help in reskinning (did I just make up a word?) their entire site. Their old homepage (after the jump) had been redone at some point, but once you drilled in to any of the categories or product pages, the site was just using the default New Vision Yellow skin from CS-Cart. No thanks.
Uniting the CS Cart template system with fancy designs, and some Typeface.js javascript magic for the dynamic headline and button fonts, the finished redesign is funky fresh. But don't just take my word for it…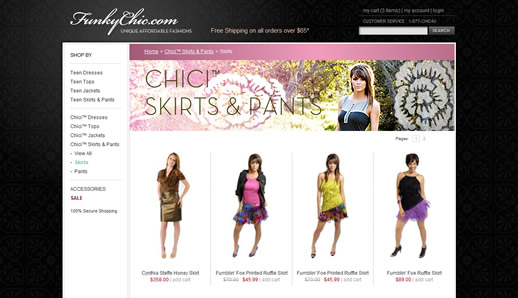 Browse products 8 at a time. See something you like? Add it to your cart right there, or click in for more details and options.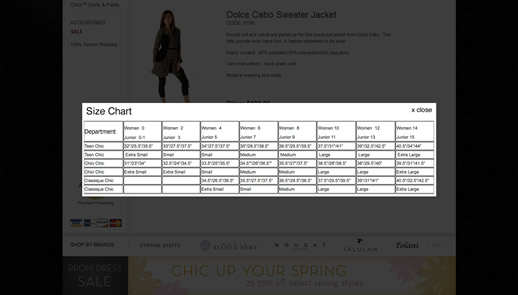 Using Lightbox effects, Size Charts, "100% Secure Shopping" guarantees, and multiple product images are all displayed while still keeping the customer on the page with that ADD CART button within reach.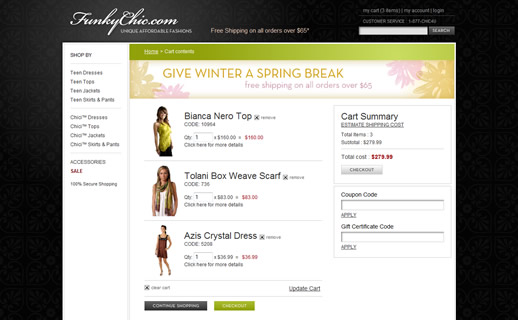 The Shopping Cart itself got a major nice overhaul. Products, with thumbnails, are displayed along with Shipping costs, Coupon / Gift Card fields, and the ability to update Quantity / Size / Color / any other feature on the fly, all within a 750 x 500 pixel space.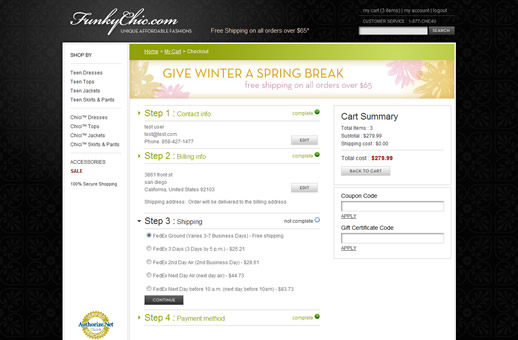 And once you are ready to checkout, the cleanliness persists, as Checkout steps through on a tight grid with fancy buttons, and without any full page reloads. Ah, jQuery, it is always a pleasure doing business with you, old friend.
The site also uses jQuery for the featured image scrolling goodness on the homepage. In that case, the images are each set up as Banners in the CS Cart system, which means the store admins get to see all sorts of helpful statistics on clickthroughs for their featured products, and get an ever better understanding of their audience, while also having an easy control on what shows up first on their site.