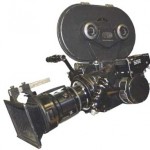 Have a short film you've been wanting to show the digital world?  Bablegunm's 3rd annual Online Film Festival will feature simultaneous online and mobile viewing for the first time this year and is accepting submissions through March 28 for short films in 4 categories: Animation, Narrative, Non-narrative and Documentary.
Indie directors Richard Linklater and Sally Potter are among this year's Jurors.
It's all about the content! And with your nifty mobile device, you can watch these films anywhere, anytime, anyplace.
These things excite us over here at Ninthlink!