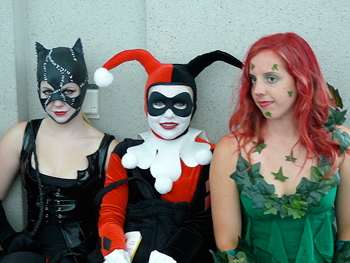 Last night, Wednesday, was Preview Night at the ComiCon.  Even though the doors did not open until 3:00 PM at the Convention Center, pre-reg fans, pros, and bros among the pros were lined up early in the morning; downtown was aswarm with exited attendees, the trolley was packed from Old Town and back, and pedi-cab drivers were bycling costumed people all over….restaurants were full, hotels at capacity — indeed, commerce and art was flowing together every which way you looked, and that's a good thing for our fine city…
Fans were given a nice treat from Warner Bros. Television that showed exclusive pilot premiere screenings of some of the most buzzed-about new TV series of the 2009–2010 season:
Human Target, V, and The Vampire Diaries.
Based upon the popular DC Comics title and starring Mark Valley (Fringe), Chi McBride (Pushing Daisies), and Jackie Earle Haley (Watchmen),  Human Target is a crazy thrill ride about a mysterious "private contractor" who will stop at nothing, even if it literally means becoming a human target, to keep his clients alive and well. The series is from Bonanza Productions Inc.,  in association with Wonderland Sound and Vision, DC Comics and Warner Bros. Television. Human Target will air Wednesdays at 9:00 PM ET/PT on FOX, beginning in January '10.
As for V, it is a thrilling "re-visionist" show of the miniseries about alien invaders with the same name, starring Elizabeth Mitchell (Lost), Morris Chestnut (Boyz n the Hood), Joel Gretsch (The 4400), Lourdes Benedicto (24), Logan Huffman (America), and Laura Vandervoort (Smallville). V will premiere midseason on ABC.
Writer/producer Kevin Williamson (the Scream movies) is back on the game with The Vampire Diaries, an edgy and romantic new drama about two vampire brothers (one good, one evil) who are at war for the soul of one girl (kinda sounds like Wolverine). Based on the best-selling book series of the same name by L.J. Smith, the show stars Nina Dobrev (Degrassi: The Next Generation), Paul Wesley (Everwood), Ian Somerhalder (Lost), Steven R. McQueen (Everwood), Katerina Graham (17 Again), Sara Canning (Smallville), Candice Accola (Supernatural), Zach Roerig (Friday Night Lights), Kayla Ewell (Entourage), and Michael Trevino (The Riches). It comes from  Bonanza Productions Inc., Outerbanks Entertainment, and Alloy Entertainment in association with Warner Bros. Television and CBS Television Studios. The Vampire Diaries will air Thursdays at 8:00 PM ET/PT this fall on The CW, premiering September 10.
Exciting suff, eh?  That's just the beginning of a crazy weekend of imgination and thrills…
And don't forget to come down to the Wonderhaus tonight at 6:30 PM for Mark Murphy's eye-candy documentary, Scribbleo8!
[image from M. Hemmingson]