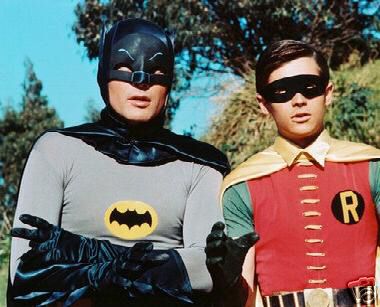 It's Back, Boy Wonder!
People, collectors, artists, experts, publishers and fans have been arriving into San Diego since Saturday, and will continue to do so all week, for the annual San Diego International ComicCon, which we followed and reported on last year in this blog.
It's not just about comic books, superheroes, aliens, Godzilla, Pokemon and Spiderman — the ComicCon is really the International Pop Culture Entertainment Convention, a mixture of video and online games, Japanese magna, toys, collectibles, literature, trading cards, new and upcoming films, new and upcoming television shows, paintings, digital art, innovations in entertainment technology, music, and…yes, those old hard-to-find Batman comic books from the 1940s…
A Brief History of the Comic Book Art Form
Comics started as two-and-four panel strips in newspapers, post World War I, as modes of expression and information using visuals.  Actually, we can say that the medium really started with prehistoric paintings in caves and Egyptianhieroglyphics, all of them visual narratives of juxtaposed images. The existence of words was not necessary, but with the adoption of symbols to represent them — letters — they were soon added to give more information that aided the narrative flow. The improvement of press and printing technology were strong factors to the development of the medium.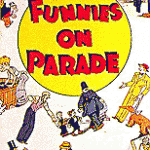 In 1933, the first true "comic" book came out — Funnies on Parade. It  appeared in the 8″ x 11″ format that comic books are published as today. There were 10,000 copies printed, all given away with coupons for Proctor & Gamble products. The concept for mixing product with entertanment came from George Janosik, Harry Wildenberg, and a salesman named M.C. Gaines. They secured a contract with the McNaught and McClure Syndicates to reprint some of their comic strips. M.C. Gaines saw in newspapers.  The booklets were a success and more were printed.  They were doing what many brands online still do — mixing product, ads, and reading material together.  The matching of a brand to a form of entertainment would later be emplyed to television shows, when a single product used to support a single show in the golden days of TV broadcasting.
From the 1940s on, comics moved from newspaper strips to their own digest publications, either as anthology compilations of several stories to single narratives, the comic book we knew todays.  Between the 1930s-1950s, distrubtion across America for all periodicals was done through the some 100,000 newsstands found in every major city, often on every block.  This outlet was controlled by the Mafia, however, and with bad management and government indictments, the newsstand business had a downturn in the late 1950s, which affected the success of comic books as well as many pulp fiction magazines and tabloids.  Things did not pick up until the late 1960s, and in the 1970s-80s, comic books found a new life and new audiences, with artists resurrecting many old characters from the 1930s.  Iconic charcters of today — Batman, Superman, Wonder Woman, Spiderman  — have a long history in American history.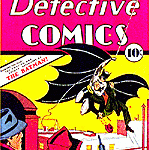 In the late 1980s, a new form, or genre, emerged: the graphic novel, coming out multi-issue series in the comics (in the case of Superman and Batman, story arcs occurred in a number of different venues, from Detective to Action Comics).  Today, the graphic novel is a stand alone form, outside periodicals, and what was once considered low culture art is now viewed by academics as a legitmate high art literature worthy of study like Shakespeare or Hemingway.  A recent issue of English Language Notes, for example, was devoted to the serious study of the graphic novel as a literary form.
A Brief History of the Super Hero
There have always been heros in comics — Dick Tracey and Popeye were two of the earliest, but they did not have abnormal, fantastic powers.  Well, maybe Popeye did — every time he downed a can of spinach, he acquired superhuman strength…and Dick Tracy never seemed to get shot.  Batman has never had super powers, using brawn and brains; in fact, in his first incarnation, from Detective Comics, Batman carried a pistol and often shot the bad guys.  The Phantom and The Shadow, in costumes, used gadgts and guns as well.
In February of 1935, New Fun Comics came out. The creator, Major Malcolm Wheeler-Nicholson, decided that he didn't want to pay the fees that the newspapers were charging for their old comic strip reprints, so acquired new content from creators. National Allied Publications Inc. published New Fun Comics in a much bigger 10″ x 15″ tabloid size. New Fun would be the first comic book that a company later called "DC" would publish. It was the first comic book to contain advertisements as well. By issue #6, New Fun increased the comic books to 64 pages, and in issue #6 saw a team-up of two important people in comics lore:  Jerry Siegel and Joe Schuster, creators of Superman, frst appeatred in June 1938 in Action Comics #1 (a series that still exists today) — this issue, in good condition, goes for thousands of dollars among collectors, as it is a milestone in the creation of super beings who fight crime and evil.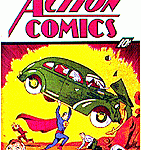 Such heros proved to be popular and needed at the time, with World War II clouding world events…they continued to find an audience in post-World War II America and Europe, as many people questioned a world where so many humans could be murdered ruthlessly.  The connection between heros and nations at war has been commented on considerably in the series and movie Watchmen.
A Brief History of the ComicCon
The ComicCon began in the 1970s as a small event for serious collectors and fans of not only comics, but science-fiction books and memorbilia.  It was frst held in hotel ballrooms, moved to the old Convention Center on C Street.  Each year it grew bigger, until in 1990 it moved to the newly built San Diego Convention Center on Harbor Drive to accomodate the crowds.  It has been estimated that the "Con," as it's called,  gains 10,000 news people each year, currently closing in on the half-million.  This is a testament to the power of these entertainment forms — it is also a much-needed boost to downtown San Diego's economy, as all hotels tend to fill up and the restaurants and bars are packed from morning to night.  In the current economic slump, these Gaslamp Quarter businesses welcome the business.
2009
There are many great things to find at the ComicCon (and don't forget to see our very own Planet Illoguca booth!), from sightings of movie stars, comic artists, and constumed characters, to test screenings of new TV shows, panels on the fine art of drawing and creating characters, and of course the massive dealer room.
We will be reporting daily on the events…stay tuned.
[
Images provided by http://www.geocities.com/Athens/8580/frames.html and imagianrycinema.com, respectively]
[Please contact Ninthlink.com to remove any images]