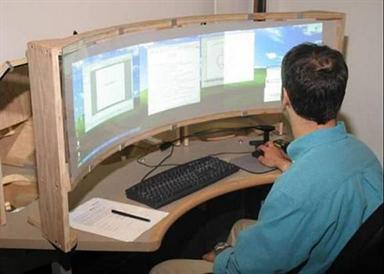 The Wall Street Journal recently reported that the Iranian government is utilizing a cutting-edge technology developed with Siemens AG and Nokia Corp that enables it to inspect deep packets of data to control and censor access to information on the internet on a large scale.   This process enables authorities to not only block communication but to monitor it to gather information about individuals, as well as alter it for disinformation purposes,, according to experts who spoke to WSJ.
The "monitoring center" was part of a larger contract with Iran's centralized telecom monopoly that included mobile-phone networking technology. Iran's censorship technique is a more centralized approach than the one taken by the much larger freedom-unfriendly China, which depends on the cooperation of multiple service providers.
What are we to think, however, when Western corporations help oppressive governements keep a "lid" on its citizenship, and perhaps engage in human rights violations?  Is there a moral fine line that should not be crossed between profit margins and democratic thought and freedom?  The same could be asked of corporations that sell arms and war technology to the same governments.
Despite efforts to suppress the flow of information, unsettling and provocative  images of the violent protests in Iraq, such as the apparent murder of a young woman named Neda Soltan (now a martyr for the cause of the opposition) continue to trickle through, galvanizing the country and increasing pressure on the USA to act. Along with YouTube, ad supported British video sharing site Live Leak has become one of the go to destinations to view citizen postings because it focuses on news and does a fairly effective job at weeding out banal and gratuitous postings.   Filter by sections to browse what interests you including Recent Media, News/Politics, Education, Entertainment and Citizen Journalism.
The site's MiddleEast section aggregates the latest from that region.
Ten years ago, none of this would have been possible; Iran would have closed its doors to the world and the world would not be abreast of the situation.  The very freedom and flow of information the Internet provides is what restrictive governments have feared.
We marvel at the rate and speed and vitality of online technology and how our world — both in cyberspace and outside — changes nearly everyday because of it.
The paradigm shift is here, folks — we're watching it happen on all our screens right now.  Take a moment to watch, listen, and consider how the world changes by advances of online technology.
This article from the U.K.  Guardian says it all:
How Neda Soltani became the face of Iran's struggle
Robert Tait and Matthew Weaver
guardian.co.uk,     Monday 22 June 2009 21.59 BST
Shortly after 5pm on Saturday afternoon, Hamed, an Iranian asylum seeker
in the Netherlands, took a frantic call from a friend in Tehran.
"A girl has just been killed right next to me," the friend said. It had
all happened quickly. A young woman, chatting on her mobile phone, had
been shot in the chest. She faded before a doctor, who was on the scene,
could do anything to help.
There was more. Hamed's friend, who does not want to be named, filmed the
incident on his phone. Within moments the footage had landed in Hamed's
inbox. Five minutes later it was on YouTube and Facebook.
Within hours it had become one of the most potent threats faced by the
Iranian regime in 30 years.
"He asked me, is it possible to publish everything right now," Hamed said.
"I published it on YouTube and Facebook and five minutes later it started
to get many emails and messages and it published everywhere.
"It shocked me very, very much and I was sure at that time everyone in the
world if they see this movie they'll be shocked, and I felt that I must
broadcast it because I try to show to the world what is going on in my
country."
The killing of Neda Soltani, the grisly images of blood spreading across
her face, have become perhaps the defining sequence in the 10-day uprising
against the regime in Tehran, a gruesome manifestation of Ayatollah Ali
Khamenei's threat to use force on the tens of thousands of people
contesting the outcome of the presidential election.
Soltani is being mythologised as a martyr to the opposition's cause, a
rallying call for a protest movement in need of a hero. Her image has been
printed on placards brandished during clashes in Tehrantoday.
The footage is disturbing. Her eyes open, Soltani seems to radiate a
calmness at odds with the panic surrounding her as she lies in the road
after being struck by a bullet.
For the authorities, it was clearly unsettling. They quickly moved to ban
the victim's family from holding an Islamic funeral, apparently for fear
of creating a figure that could unite and revive the battered opposition.
The details surrounding Soltani's death are as sketchy as her own story.
She was 26, a philosophy student and a part-time travel agent, according
to those who knew her. She was no rock thrower at the vanguard of a
movement for regime change , but, according to her fiance, Caspian Makan,
a young woman who may have ended up in the wrong place at the wrong time.
Makan, said she had been in a car in central Tehran with her music teacher
when they were caught in a traffic jam. He said the pair had left the car
to escape the heat.
It was when she was walking down Karegar Street talking on her phone that
the shot rang out.
"Neda's aim was not Mousavi or Ahmadinejad, her target was her country,"
Makan said, adding that although she hadn't planned on demonstrating, she
was sympathetic to the protest movement.
In the footage she is wearing jeans, white trainers, a dark shirt and a
headscarf, suggesting a middle class and relatively emancipated young
woman.
Several men are shown frantically trying to save her life as blood from
her wounds rapidly develops into a large pool beside her.
Reports vary on who fired the fatal shot. Some sources suggested it was a
Basij volunteer on a motorcycle, while others have attributed it to a
marksman on the roof of a nearby house.
Others said she may have been targeted because she was using a mobile
phone, one of the opposition's most important tools.
Another video said to be of Soltani, taken just before she was shot, shows
her standing among a crowd of protesters, some of whom are heard chanting
"death to the dictator" and "Allahu Akbar".
Like much of the footage that has emerged from Tehran in recent days, the
authenticity and circumstances behind the video could not be verified.
But Soltani was quickly lionised by an engaged online community inside and
outside Iran. Some have even started writing songs in her memory to
accompany the web footage.
One song, by a singer called Pourang Azad, contains the lyrics: "You left
and thousands of flowers grew, you left and my patience finished ? Your
loving look is full of demand. Sleep, sweet lady of Iran."
The incident has taken on an added poignancy from the meaning of Soltani's
first name. Neda, an Arabic word used more commonly in literary rather
than spoken Farsi, conveys the spiritual meaning of "call" or "voice".
The authorities are acutely aware of the threat posed to them by her
killing. They only agreed to release her body on condition that her family
agreed to a quick burial on Sunday in the sprawling Behesht-e Zahra
cemetery on the outskirts of Tehran.
A memorial service planned for the Nilufar mosque in the capital's
Abbasabad neighbourhood was called off after officials expressly forbade
it. All other mosques in the Tehran area have been warned against holding
services in her memory.
But that may not be enough to stop Soltani becoming a martyr, a status
revered in Shia Islam, the dominant sect in Iran. Under the creed,
mourning ceremonies are held for the dead on the third, seventh and 40th
days after their passing.
During the unrest that presaged that 1979 Islamic revolution, processions
on the 40th day of mourning for fallen protesters became landmarks that
created the momentum to topple the shah's regime.