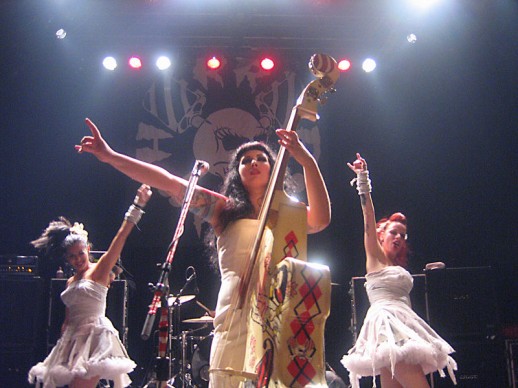 Digital music consumers have demonstrated interest in several "free" selling points since the launch of Napster ten years ago and the trends don't bode well for other media, notes a new report from the The Pew Internet & American Life Project.
"Media analysts now broadly use the term, 'Napsterization' to refer to a massive shift in a given industry where networked consumers armed with technology and high-speed connectivity disrupt traditional institutions, hierarchies and distribution systems," writes researcher Mary Madden…
"And in many cases," Madson adds, "those consumers have come to expect that a digitized version of a product  such as news, movies or television shows should be available online for free."
Consumers have demonstrated that they want their music to be:
free or virtually free
portable to any device
accessible wirelessly
offered in a library that includes every song ever recorded
able to be remixed and mashed up at will
Of course, the "record labels" — if that term applies any more — and music distributors balk at the term free and have been fighting piracy in a draconian manner.  Yet, they (like all of us) have to listen to and engage calls of action toward what the consumers out there want and need.
The challenge, then, is for music providers to find new and unique to deliver the product and keep the consumer happy, while ensuring revenue and ROI.  Take for instance,  British cable operator Virgin Media  teaming with Universal Music to launch an online subscription music service that will offer unlimited DRM-free downloads beginning later this year. The service will launch with a series of new policies designed to thwart file sharers, including a plan to temporarily disconnect "persistent" file sharers. And unlike other subscriptions services such as the one tied to Microsoft's Zune device, the service will enable customers to store songs on any MP3 compatible device including Apple's iPod. Virgin says it is currently in talks with other music labels to further fill out its catalogue.
Of course, we all know that there are many clever, genius hackisvists and keyboard cowboys who will always find a backdoor or way to obtain and distribute the product — music — free of cost.  Knowing this, brands can look for other ways to ensure revenue in that situation — creative ways to integrate ads with product playform — such as embedded into video games — will come into play.
Consider these brands and their innovations in merging ads and product:
The IAB released an initial set of standards for measurement of in-game advertising. The guidelines, currently up for public comment, set out to establish common methodologies and definitions for ads that appear in both PC and console-based games.
Overlay.TV, developer of user-generated clickable video, launched a new e-commerce product allowing seamless integration of interactive video into product pages, brand experience pages, face-to-face video chat and user-generated video ratings and testimonials. The easy-to-use interface enables merchants to pair UGC with professionally created video and moderate it with a built-in dashboard, giving brands a modicum of control they've called for when dealing with user-generated video.
Village Voice Media announced it will launch its own niche ad network comprised of local blogs and content sites that mesh with the publisher's 15 alternative weekly papers. Launch partners include LikeMe.net, Curbed.com, Racked.com and Checkoutmyink.com.
Gas Station TV launched a new campaign dubbed "Prius Neighborhood" with Toyota to encourage viewers to submit local event details for potential airing on screens displayed at gas stations across the country. Local events will featured with Prius spots based on the zip code of the pump user.
There are always new ways to do business, and on the web, the possibilities are infinite.
Call to Action: Write down three unique ways you think that will allow the consumer's desire for all things free but also brings in revenue to the brand. Send them our way. Let's compare ideas and figure out the next hot trend.