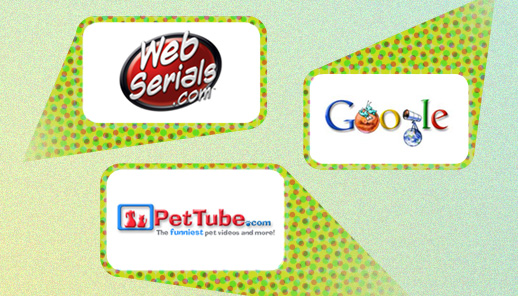 Google Mars!
NASA and Google released a new Mars overlay providing 3D views of the canyons and mountains of the Red Planet, part of the beta launch of the downloadable Google Earth 5.0 client application. Choose from a variety of content categories to view the locations of spacecraft landings and major scientific findings. National Geographic also signed a deal to provide a wide range of content to a new Ocean overlay of Google Earth.
Access a variety of Nat Geo content including articles, interactive features and videos including several narrated by Oceanographer and National Geographic Explorer-in-Residence  Sylvia Earle. So far 20 content layers have been added. But Google plans to layer in an additional 200,000 points of material in the near future covering marine species, shipwrecks and climate change from a wide range of partners.
Like Old Radio Serials, Web Serials Are Hot!
WebSerials.com is one of the more ambitious portals for serialized, snackable web video that brought us shows such as sci-fi/horror yarn Project X . Production partner New Renaissance Pictures have unveiled their latest project. The apocalypse-themed "The Black Dawn" appears to raise the bar in terms of depth of story; the show will consist of over 100 distinct components woven together to tell the story of thirteen college students who survive a deadly plague that blankets Los Angeles. WebSerials plan to utilize a variety of tools to fill in the blanks of the narrative and fill out the back stories of the characters including an online comic book and a college video blog show. The storyline is non-linear, like Lost. Many of network's digital studios have relied on these techniques to build out digital content around hit linear brands such as Lost on ABC and Heroes on NBC. It will be interesting to see how this pure web studio can advance these storytelling techniques.
Cats & Dogs
PetTube.com started on a shoestring budget as way to make use out of animal-themed clips in the library of Brad Lachman Productions, which has been producing shows and specials on linear TV for 25 years. It follows your basic video sharing template, with some simple interactive and social networking features thrown in for good measure. With no publicity and little marketing efforts, the site managed to serve over 2 million videos during the past two months, including views via PetTube channels on YouTube, Metacafe and MySpaceTV. PetTube has yet to generate much revenue, but it has proved to be an effective tool to market the company's core product: licensed TV clips. Yet with a little web 2.0 ingenuity, PetTube could prove to be a valuable brand in its own right. Find sponsors for those videos and syndicate them out to anyone and everyone who wants to add a little cuteness to their site. Local TV station sites have experienced some of their highest video view numbers to date from pet themed clips. Hey, we all love our cats and dogs…and birds and turtles…and ferrets and snakes…