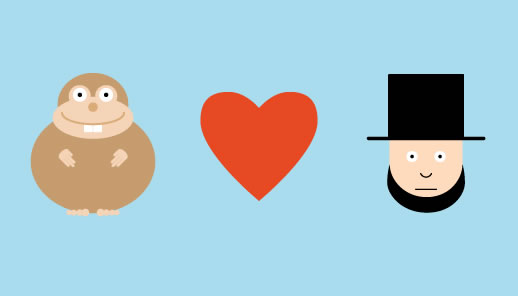 There are a number of important days and holidays in the month of February.  Let's take a look at some, their history, and what they mean to us in today's culture, and how these events relate to online marketing.
Groundhog Day
This was on February 2. The prediction, according to a number of groundhog shadows cast, is that there will be six more weeks of winter.
Where did this tradition originate?  According to folklore, if a groundhog emerging from its burrow on this day fails to see its shadow, it will leave the burrow, signifying that winter will soon end. If on the other hand, the groundhog sees its shadow, the groundhog will supposedly retreat into its burrow, and winter will continue for six more weeks. The holiday, which began as a Pennsylvania German custom in southeastern and central Pennsylvania in the "18th century" 18th and 19th centuries, has its origins in ancient European "Weather lore" weather lore, wherein a badger or sacred bear is the prognosticator as opposed to a groundhog. It also has a connection to Candlemas Day.  An early American reference to Groundhog Day can be found in a diary entry, dated February 5, 1841, of Berks County, Pennsylvania storekeeper James Morris:
"Last Tuesday, the 2nd, was Candlemas day, the day on which, according to the Germans, [17] the Groundhog peeps out of his winter quarters and if he sees his shadow he pops back for another six weeks nap, but if the day be cloudy he remains out, as the weather is to be moderate."
In the United States the tradition may also derive from a Scottish poem:
As the light grows longer
The cold grows stronger
If Candlemas be fair and bright
Winter will have another flight
If Candlemas be cloud and snow
Winter will be gone and not come again
A farmer should on Candlemas day
Have half his corn and half his hay
On Candlemas day if thorns hang a drop
You can be sure of a good pea crop
Groundhog Day has not gone unnoticed by savvy web marketers who offer groundhog dolls and toys, cards, and special sales.  Why not?
Valentine's Day
For those dating, this is an exciting, if not pressuring, day to let someone know how special you are to them.  Candlelight dinners, roses, candy, jewelry, and mink coats are often associated with Valentine's Day.  For  married couples, it is a nice day to remind your spouse of what you should remind them every day: that you love them, cherish them, want to grow old and play with grandchildren with them.  For those recently dumped, this can be hard, but you can always put a picture of your ex- on the wall and throw darts at the scalawags.  If you're the one who did the dumping, it's time to prowl singles gatherings and match.com for a new partner.  If you do not need a new partner, stay at home, watch a movie, and eat ice cream.
The holiday is named after two among the numerous Early Christian martyrs named Valentine. The day became associated with romantic love in the circle of Geoffrey Chaucer in the High Middle Ages, when the tradition of courtly love flourished.
An alternative theory from Belarus states that the holiday originates from the story of Saint Valentine, who upon rejection by his mistress was so heartbroken that he took a knife to his chest and sent her his still-beating heart as a token of his undying love for her. Hence, heart-shaped cards are now sent as a tribute to his overwhelming passion and suffering.
The U.S. Greeting Card Association estimates that approximately one billion valentines are sent each year worldwide, making the day the second largest card-sending holiday of the year behind Christmas. The association estimates that women purchase approximately 85 percent of all valentines.
President's Day
A federal, state, and city holiday! Washington's Birthday is the official name designated to what many of us know as President's Day. During the month of February the birthday of two of our greatest President's takes place. Both George Washington who was born on Feb. 22nd and Abraham Lincoln born on Feb. 12th.
However, Washington's birthday has been publicly celebrated since he was in office, before Abraham Lincoln was born. Much of the debate over the name of the holiday springs from the fact that state's can follow their own holidays how they see fit and many of them chose to also honor Lincoln, calling the celebration President's Day.
It was in 1968 that the term President's Day came up for legal consideration in the Congress but was shot down, though the holiday was moved to fall between the two President's birthdays. Again in the 1980's there was a resurgence of the term with advertisers which solidified the holiday name in American culture. Today, few Americans prefer to call the holiday Washington's Birthday in lieu of President's Day.
And, of course, President's Day sales are a staple all over the consumer world, either in brick and mortar stores and on-line.  Like Black Friday, after Thanksgiving, and after Christmas and post-New Year's Day sales, President's Day is known for when people start to stock up for the spring with clothes and brands.