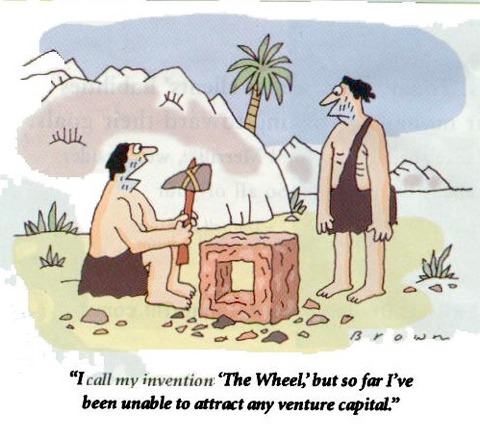 No Need to Fear, Netscape's Founder Is Here
Have a great tech idea?  A company that will make millions online but all you need is that seed cash?  Impossible to find investors?  All is not hopeless, young Internet entrepenuers!  Netscape founder Marc Andreessen announced on Charlie Rose/PBS last Thursday that he is creating a VC fund with partner Ben Horowitz to help seed technology companies. Check out the interview to hear Marc's thinking on the future of the newspaper business (shut down the print editions tomorrow), the patience of Facebook's monetization strategy and the wonders of devices like the iPhone that get the user interface right.
Andreessen, as we know, co-wrote the browser that became Netscape Navigator and opened the Web to billions of peeps. Ben Horowitz is a longtime colleague who also worked at Netscape. The two plan to invest anywhere from $200,000 to $1.5 million in several Internet companies.
"I'm crossing over into the dark side," Andreessen told Rose, according to a transcript of the show posted by TechCrunch, "…what we're seeing is a whole generation of startups that don't need very much money to get started."
Andreessen and Horowitz have invested in startups for three years: 36 deals, according to Andreessen. He could probably afford personally to lose millions of dollars. Andreessen is on the board of Facebook, has invested in Twitter and raised $44 million himself a couple of years ago for Ning, a site that lets people set up their own social networks.
But venture capitalists invest in companies with other people's money. So Andreessen and Horowitz are going to need more than a little luck and a big pile of cash.
What Is Venture Capitol?
Accoridng to Wikipedia:
Venture capital (also known as VC or Venture) is a type of private equity capital typically provided to early-stage, high-potential, growth companies in the interest of generating a return through an eventual realization event such as an IPO or trade sale of the company. Venture capital investments are generally made as cash in exchange for shares in the invested company.
Venture capital typically comes from institutional investors and high net worth individuals and is pooled together by dedicated investment firms.
A venture capitalist (also known as a VC) is a person or investment firm that makes venture investments, and these venture capitalists are expected to bring managerial and technical expertise as well as capital to their investments. A venture capital fund refers to a pooled investment vehicle (often an LP or LLC) that primarily invests the financial capital of third-party investors in enterprises that are too risky for the standard capital markets or bank loans.
Venture capital is most attractive for new companies with limited operating history that are too small to raise capital in the public markets and are too immature to secure a bank loan or complete a debt offering. In exchange for the high risk that venture capitalists assume by investing in smaller and less mature companies, venture capitalists usually get significant control over company decisions, in addition to a significant portion of the company's ownership (and consequently value).
So…what are you waiting for?  Get those proposals in to Andreessen & Howrowitz.
Getting Started
First, however, here are a few things you need to know:
Venture capitalists don't want to hear about ideas; they want to see your company lunched before you ask them for money. If you weren't willing to put the time and money into launching a beta version of your company, why would they want to give you money?
VCs aren't the smartest people out there, but it doesn't mean they are dumb either. Don't blow smoke in front of their face or else they will call you out on your bullshit. Be honest every time they ask you question and if you don't know the answer, it's OK to say that you don't know.
There are 3 different types of capital you can get: early stage, expansion capital, and buyout capital. Before you start your dog and pony show, make sure you know what type of capital you are going after.
If you are trying to raise a few hundred thousand dollars, you are better off pitching angel investors. Most VCs tend to shy away from investing small amounts of capital.
Business plans are bullshit. You may think they are great but I haven't seen a VC ever read a business plan or fund a company based off of one. I could be naive, but I think they would rather have you spend your time on launching your company compared to writing a 30-page document.
People are scared to give money to people they don't know. If you don't know any investors you better start getting to know them. You can easily do this by reading and commenting on their blog or by striking up an email conversation with them. Or you could ask your friend or lawyer if they can introduce you to a VC (good lawyers know a ton of VCs).
In most cases VCs are using other rich people's money to invest in companies and not their own. This means that they have a boss. So if you hear horror stories about companies getting screwed by them, it isn't the VC who is being mean. They have to cover their ass as well.
Make sure a 5 year old can understand your business model. If you can get a 5 year old to understand what you are doing, then a VC will understand what you are doing.
There are 2 types of investors out there, the first can just provide you with money and second can provide you money and knowledge. The second type of investor is called a strategic investor; ideally you should only take money from a strategic investor.
If you are looking to raise a few million dollars or more, you usually won't get it all from one venture capital firm. You will have to get money from multiple VCs, but the good news is they believe in the herd mentality. This means that if one VC sees that another VC is interested in giving you money, then they too are naturally interested in giving you money.