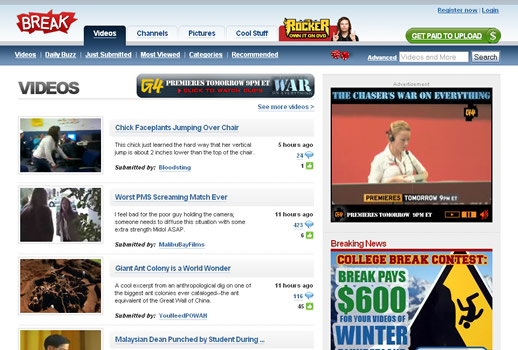 Amid a time of unprecedented cutbacks in media, guy-flavored video portal Break.com is announcing a major push into the original production space. The company is launching a formal production "Creative Lab" led by Stuff Magazine veteran Jonathan Small, VP of Creative Lab and Editorial, and Broken Lizard's Tara Leone, VP, Production and Distribution — 2 of 8 full-time employees who will help churn out more branded funny stuff.
Break's content may not be the most intellectually and  headiest stuff known out there, but the company has had more success at monetizing its shows than many online video producers by adhering to a few hard and fast principles.
First, everything Break does is dedicated to the young male demo so advertisers know exactly what they're going to get with a Break project.
The company launched or acquired a total of seven new sites last year to help fill out the brand and expand its reach to 60 million uniques, and enhanced offerings by striking partnerships with many of the internet's leading producers including Hulu, Howcast, Revision 3 and NextNewNetworks.
Most important, Break has diligently done its part to solve the nascent industry's monetization issues by: financing research into online video ad effectiveness, developing new products like its Movie Trailers channel built exclusively for the need of its sponsors and participating in crucial efforts to standardize measurement and metrics.
Despite the doom and gloom now prevalent in the marketplace, Break CEO Keith Richman says these efforts should really begin to pay off this year as advertisers become more comfortable with the whole language that has grown up around the medium.
There is much to learn from Break.com as an example of successful online niche marketing. Break has targeted a specific audience, knows its consumers well, knows what its consumers want and need, has maintained relevance and gained loyalty with millions.
Interested in having your brand become just as successful online?  The team at Ninthlink can do it – just contact our office and we'll tell you how you can reach a 300% ROI just as Break has.