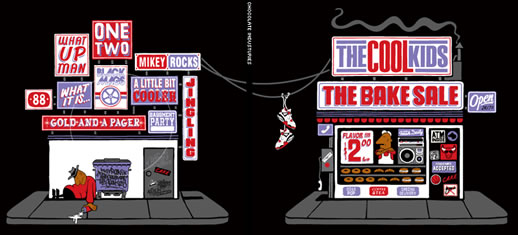 The Ninthlink delegation to SFOutsideLands has returned, and what a weekend it was. Lets see how many puns I can get… Friday, we did in fact pack like sardines in a crushed tin box (excuse my spelling) for Radiohead. Just us and 75,000 of our closest friends. Saturday, ate lunch at the 21st Amendment brewery, and then we were freefallin with Petty. And by Freefallin, I mean lying down in the back of the crowd. Sunday day time, enjoyed a bit of actual sunshine, then off to Pier 39 for tourist lunch, and to the festival to get as much as we could of the last day, including a most excellent set by Chicago's The Cool Kids.
Which leads to my one regret of the weekend : not picking up a Cool Kids tshirt. I am not allowed to own an actual cat, so in keeping the universe in balance, I have decided to try and pick up tshirts with cats on them. Makes sense, right? But I have looked and looked, and been unable to find any sort of tshirt ecommerce store site anything with the shirt the merch booths at the concert were selling. Someone needs to get their store in order.
That gripe down, let me end on a positive note. This site itself is slowly pulling itself together more and more. Itself. Or, as we are refining it, bit by bit. One of the rounds of refinements last week was to implement SIFR. Many people pronounce it like "sci-fur" , but I think its nicer when it rhymes with "swiffer". Long story short of it is that it replaces html text with fancy flash text in any font you might desire. Might get it rolling on the titles in this blog sometime this week, but in the meantime, you can see the changes in the top and side of all the pages. No more approximations with web safe fonts. And the designers rejoice!