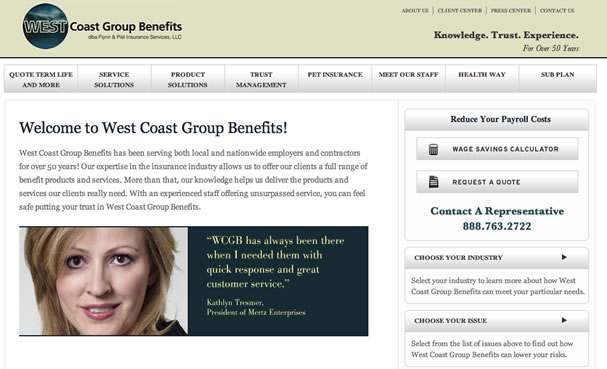 Like many businesses, West Coast Group Benefits had a well functioning website capable of handling all of their online needs.  However, also like many businesses, West Coast wanted more control over their site's content – not only to change bits and pieces here and there, but to have the ability to add entire pages or sections, without the need for advanced technical knowledge or hiring a San Diego web development company – like us.  The benefits of WordPress go well beyond it's user friendly interface and continuous improvements through it's open source framework; it can also be a useful tool for supporting search engine optimization (SEO) initiatives.
Unlike West Coast's previous site, which didn't have a blog – the new and improved site gives them the ability to not only keep interested readers up to date with the latest company news and industry trends, but it will allow them to target and blog about keywords important to their business, which in turn, should provide greater visibility in search engines.
Contact Ninthlink today for more information on what WordPress can do for your web presence.