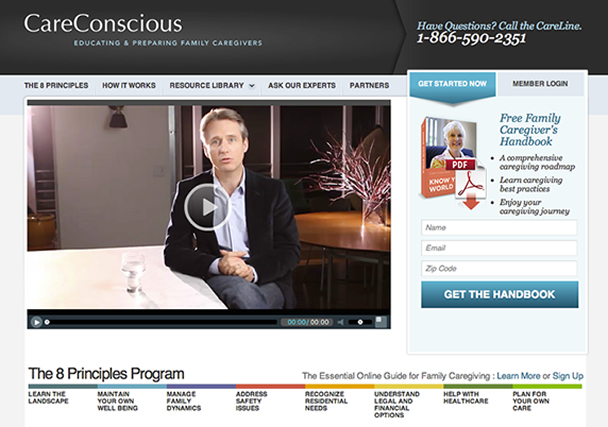 There are currently more than 60 million family caregivers in the US – a number which is sure to rise as the amount of baby boomers requiring care increases – while the amount of professional caregivers available continues to decrease. About the same time we launched the site, CNN published an article about the many challenges faced by such family caregivers.
The caregiving burden (for lack of a better word) oftentimes falls on families and indviduals that aren't emotionally, physically, or financially prepared to deal with being a caregiver – leading people to become stressed & less productive in their own lives; all of which present a new set of challenges.
Enter CareConscious, a company whose mission is to help people in a similar situation get help with difficult decisions, uncover the financial, legal and emotional traps that threaten caregivers, and get direct access to the right resources.
Ninthlink worked hand in hand with CareConscious to define the product & build the brand online through design and development.
The site features a robust backend Dashboard for users who enroll in the 8 Principles Program – allowing users to watch informative videos, answer assessment questions, and then get personalized resources & 'To Do' lists in order to help them meet the challenges they face.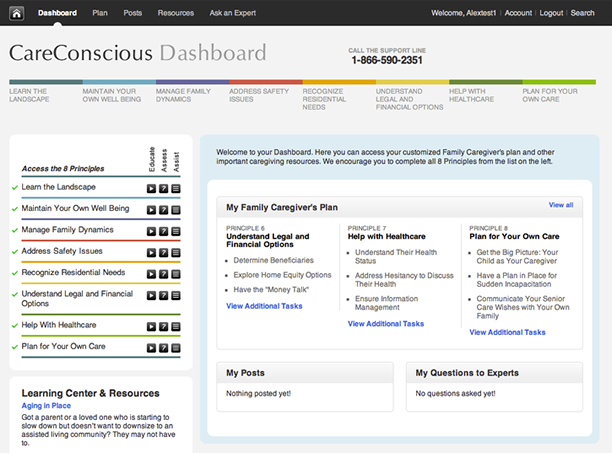 Along with personalized resources, users can post questions/answers in the community, submit questions to industry experts and even browse through a large collection of helpful articles and videos on family caregiving.
This launch is just the start of big things for CareConscious as we plan to launch a number of new features and tools to aid family caregivers all over the country.