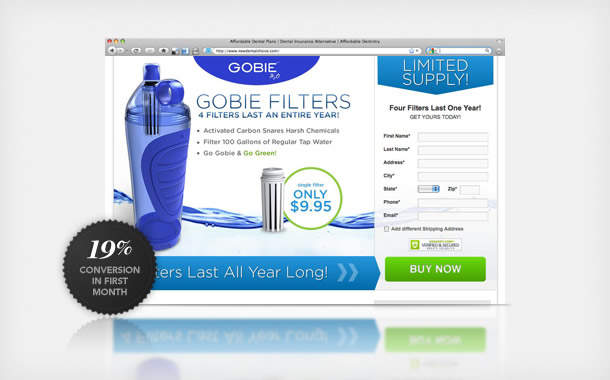 Over the past couple of years, we've been designing and developing high performance landing pages for clients looking to market and sell products or other offerings online.
We are always on the lookout for people and products we believe in. Gobie H20 met both of these requirements, so we created a plan to get the message out on both the negative environmental impact of bottle water use as well as alternative green products, such as Gobie's reusable filtered water bottle.
Through the use of proven design elements focusing user attention on our call to action and on page content strategies that support our main value proposition and build consumer confidence with site visitors, we were able to get a 19% conversion rate over the first month of launch.
Simply put, 19% of the traffic that came to Gobie's product landing page ended up purchasing a water bottle. We determined this by using one of the best utm builder in the industry and try different landing pages and scenarios
In addition to being a great conversion tool, high performing landing pages can be used as an alternative to a full blown website and present a great method for supporting PPC campaigns, SEM, email newsletters, ad networks and affiliate marketing.