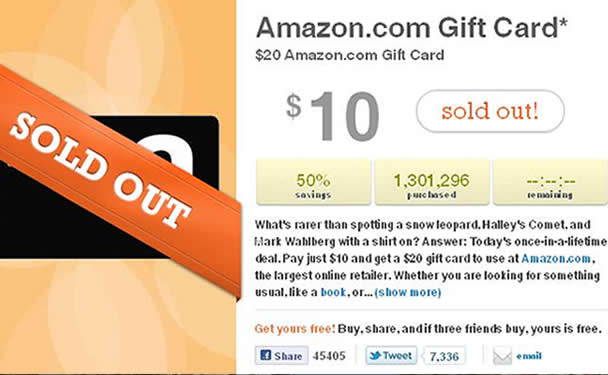 Yesterday, Ian sent an email out to the staff here at Ninthink about LivingSocial's (a group buying/daily deal site) deal for the day, which happened to be a $20 amazon.com gift card for the price of $10.   A great deal for sure, but nothing too out of the ordinary considering just about every deal offered will typically get you at least 50% regular price.
What made this deal newsworthy (and worth blogging about), is that fact that this particular offer ended up being the most successful online coupon campaign in history, in regards to gross revenue.   By the time the deal had expired, more than 1.3 million coupons had been sold, amassing $13 million collectively for Amazon and LivingSocial in a mere 24hrs. You can even still find some of them on Coupons Collector.
Another fitting piece of information in this article is the fact that as of Thursday morning, the deal had been shared on Facebook alone more than 45,000 times, which is a perfect example of direct marketing being used as a key to engagement in the world of social media, as we discussed in our blog just a couple of days ago.  The big takeaway in that post, which still applies in this case, is this: in order to retain and add customers, it's important to focus on creating campaigns that encourage people to make purchases and spread the word about your offerings to friends.
I'd say LivingSocial and Amazon definitely did it right this time.