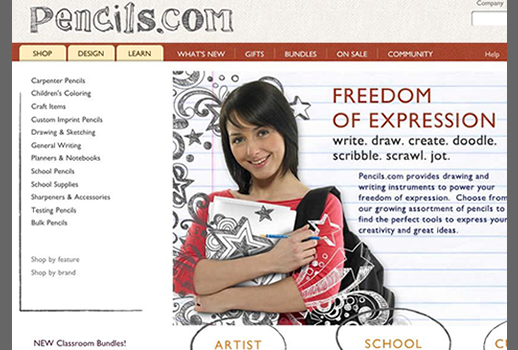 We'd like to officially reintroduce everyone to Pencils.com!  After months of planning, design and development, the new and improved site is up and running.  I sat down with Matt Stallings, the lead designer on the project to find out a little bit more about the inspiration behind the redesign.  Here is what was focused on:
From a design standpoint, we wanted to focus on the culture and history of the pencil, as well as the quality of the lead and wood used in their production.  By incorporating lead lines, shading, and elements of the surfaces we commonly write or draw on into the design, we were able to highlight the usage of the pencil.  The new site has captured a youthful, fresh, artistic style and was meant to engage both kids in school and artistic enthusiasts of any age.  Strategically, we wanted to focus on improving the overall buying experience by making it easier for people to find and purchase the available products.
Beyond the overall design and products for sale, there are a ton of new features to check out including some real cool art done entirely with pencils, as well as opportunities to learn anything you ever wanted to know about the history of the pencil.
Check it out and feel free to let us know what you think.