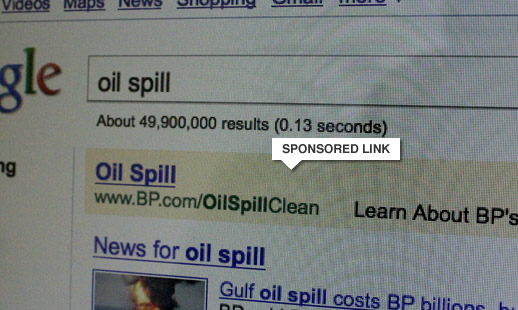 If there is one thing we've learned from following BP the past couple of weeks, it's that wells located 5000 feet below the ocean surface, spewing millions of gallons of oil into the water are very hard to fix.  Unfortunately for the oil giant, the well isn't the only problem they face as their brand's identity has also taken a giant hit.
In order to reduce all of the negative publicity, you might think BP's efforts would be focused on real world solutions to cap the leaking well in addition to ongoing clean up and animal rescue efforts.  But you'd be wrong.  Instead, BP has boosted its digital marketing efforts by purchasing related keywords and phrases on Google and other sites including a channel on YouTube detailing the company's cleanup efforts, all in an attempt to reach consumers as they search for relative information.  For instance, if you search for 'oil spill' on Google, a BP sponsored link is the first option listed, allowing someone to "Stay Updated on BP's Gulf of Mexico Response Efforts. Learn More".
How this relates to overall trends in search engines
This demonstrates the ever increasing role search engines are having on the information we get and how the results are becoming even more timely and relevant. This typical More Info link would impart one on all the knowledge they'd need to know about the effects of Search Engine Optimisation. Not only are businesses taking advantage of this as we can see by BP's example, but other media outlets, and even the general public have been making there way into LIVE search results with the recent infusion of Twitter and similar feeds into search engines. We are now getting real time updates and information on everything from sports news to major product launches and natural disasters.
What Ninthlink recommends
BP's online strategy shouldn't be reserved for times of crisis and desperation, but should also be applied whenever you're trying to be visible to the public.  In today's economy, it's essential for businesses to find the right mix of keywords and obtain high rankings in relative searches to better connect with consumers…  If there is one key thing we can pick up from BP's digital marketing efforts, it's the increasingly important role of internet information channels, such as search engines, in not only reaching consumers at the right time, but also being able to control the message about their brand, educate potential customers about available products and services and most importantly, how they can be contacted.
Statistics sourced from: Premier SEO Company in Hong Kong | NJL MARKETING (HK)
If you'd like help with your Search Engine Marketing, contact a Ninthlink Pro today.