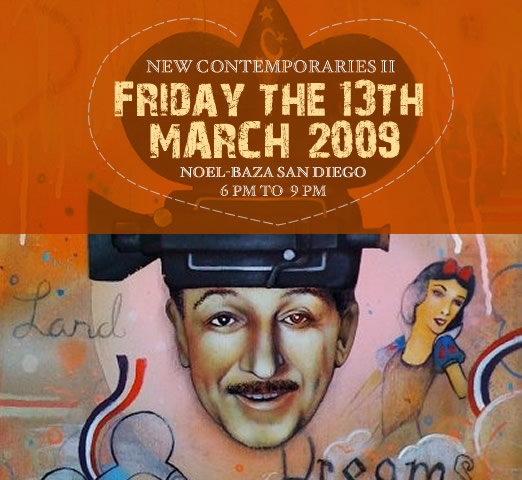 This Friday the 13th come on down and enjoy the thriving art scene in San Diego. Ninthlink's Matt Stallings has been nominated for the San Diego Art Prize, other wise known as New Contemporaries 2. This years show is hosted by Little Italy's newest gallery Noel-Baza. The show is full of a diverse collection of nominated established artists + up-and-comming heroes of the visual stimulation know as artists.
The fallowing words brought to you by the committee will help educate on the show :
Noel-Baza Fine Art is pleased to host New Contemporaries II which affirms our belief in the fine art being made by local artists. We are sure that viewers will have the chance to be delighted, challenged, dazzled, and provoked by the variety of art put forth by these artists. Our following brief comments on the work of each artist hopefully will encourage you to read each artist's statement about their work which will enhance the experience and dialogue you have with each work of art. Tania Alcala's paintings present the essence of color. David Adey's work, both three-dimensional and mixed media, reconstructs Amercan icons. Michele Guieu's thought provoking work on her life and ours has a cinematic quality. Keikichi Honna comments on contemporary life with humor and an absurdist bent. Omar Pimiento continues the dialogue on the Mexico/U.S. Border with Lady Liberty and Libertad. Marisol Rendon makes social commentary with light and shadow. Daniel Ruanova's painting and three dimensional work challenge the viewer with an aggressive declaration. Tara Smith's paintings involve scale and proportion creating tension between huge trucks and humans. Matt Stallings' narrative portraits expose American icons. K.V. Tomney provides us with glimpses of mid century America with reflected light and elegant line. Jen Trute's masterful and operatic paintings warn of the growing scourge upon the natural environment. Gustabo Velasquez creates three dimensional tableauxusing discarded "left-for-dead objects." Yuransky the founder of a new philosophy of painting, Zedism, presents his unique mathematically based vision. One of the most exciting aspects of this show will be watching the trajectory of each artist's career as it moves forward. We offer our sincere thanks to the all of the Artists, the Nominating Committee, Patricia Frischer, Ann Berchtold, and the San Diego Art Prize for the opportunity to host this exciting exhibition. Mil Gracias/A Thousand Thanks to our family for their work to make this show happen: Marc Baza, Gigi Cantin, Mary Cunningham, Sarah Garcia, Evelyn Mitchell, and Pierrette Van Cleve.