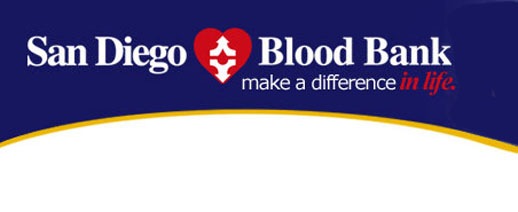 The world needs your blood. Luckily, there are many opportunities to give it. You can set up an appointment with a San Diego Blood Bank by clicking here, or if you're not into appointments you can check the schedule for one of many Blood Bank mobile units by clicking here You can also see below for a list of the blood drives for the next few days. They take place at a variety of locations such as Hotel Coronado, Various High Schools, and even Souplantation! If doing a great deed and helping those in need is not enough to get you to donate, the fact that one of them takes place at Souplantation should be enough. Go and help your fellow humans, then eat until you can't remember your name.
As previously stated in our first blog, the blood you donate will make a difference!
According to Dr. Kyle S. Choe, your blood can be used in many ways to help save lives including: auto accident victims, heart surgery, organ transplant recipients, bone marrow transplants, and 3rd degree burn victims.
Upcoming mobile blood drives:
2/19/2009
8:00 AM – 1:30 PM
West Hills High School Gym
8756 Mast Boulevard
Santee, CA 92071
Blood Drive Details
Blood Drive contacts : San Diego Blood Bank Contact – Eagan,Leslie
2/19/2009
9:00 AM – 2:30 PM
Southwestern College Parked Behind Trade Winds Coffee Shop
900 Otay Lakes Road
Chula Vista, CA 91910
Blood Drive Details
Blood Drive contacts : San Diego Blood Bank Contact – Eagan,Leslie
2/19/2009
10:00 AM – 4:00 PM
Hotel del Coronado parking lot
1500 Orange Ave.
Coronado, CA 92118
Blood Drive Details
Blood Drive contacts : San Diego Blood Bank Contact – Norris,Kristina
2/19/2009
10:00 AM – 4:00 PM
Hamilton Sundstrand Location: South Parking Lot
4400 Ruffin Rd.
Kearny Mesa, CA 92123
Blood Drive Details
Blood Drive contacts : San Diego Blood Bank Contact – Nauman,Robert
2/19/2009
1:00 PM – 6:00 PM
Albertsons Parking Lot
1459 Main St
Ramona, CA 92065
Blood Drive Details
Blood Drive contacts : San Diego Blood Bank Contact – Miller,Marno
2/20/2009
9:00 AM – 2:00 PM
The Marketplace at University City Parking Lot
3202 Governor Dr
San Diego, CA 92122
Blood Drive Details
Blood Drive contacts : San Diego Blood Bank Contact – Bradley,Jennifer

2/20/2009
10:00 AM – 4:00 PM
YMCA Parking Lot
8355 Cliffridge Ave
La Jolla, CA 92037
Blood Drive Details
Blood Drive contacts : San Diego Blood Bank Contact – Bradley,Jennifer
2/20/2009
10:00 AM – 3:0