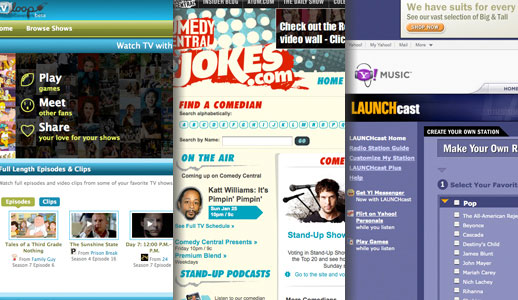 The following cool new websites use various strategies for consumer retention. They are models that we can learn marketing tricks from…
For TV Fiends
TVloop.com is a social networking hub for anyone who wants to hang out with like-minded fans of shows they are passionate about. Post comments, test your knowledge with trivia games or view clips and full-length episodes from select shows. The experience is very community-oriented; before watching a video TVloop asks if you'd like to share it with friends, along with personal comments or ratings. It may seem late to launch another TV fan site but Watercooler has been busy for the past 18 months amassing a sizeable community on Facebook, MySpace, Hi5, Bebo and Friendster around 250 shows. More than 16 million users have registered to use its widgets with 90% providing valid email addresses and 80% providing age and gender info.. Launching a community site provides the company with amazing tool with which to gather invaluable market research data from audiences in a way far more organic than forced assemble-in-a-room studies.
For Music Fiends
Launchcast is a joint venture from yahoo and CBS.  The service, which offers more than 150 stations of music, talk, news and sports, will be combined with CBS Radio's 150+ stations with CBS Radio handling sales for the entire portfolio. This is good news for Mac and Firefox users – a new CBS Radio player will be integrated onto the Yahoo site, which was previously only available to Internet Explorer users.
For Humor Fiends
Comedy Central re-launched Jokes.com with a treasure trove of 12,000 text-based jokes and 5,000 standup performances from the network's 10-year-old programming vault. It's look is a bit pedestrian but the MTV Entertainment Digital team deserves points for building in as many touch points as humanly possible. Search the routines of comedians such as Dane Cook, Jeff Dunham and Jim Gaffigan or sort by most popular clips, comedian's name, TV show or most recently added video. Look for jokes from 72 different categories. There are 770 jokes tagged in the pop culture category alone. The site will also function as the central hub for all Comedy Central stand-up events, tours, shows and live comedy entertainment. UGC content and more social tools are needed to make it a truly vibrant comedy portal but the depth of professional content on the site provides a terrific base to start with.