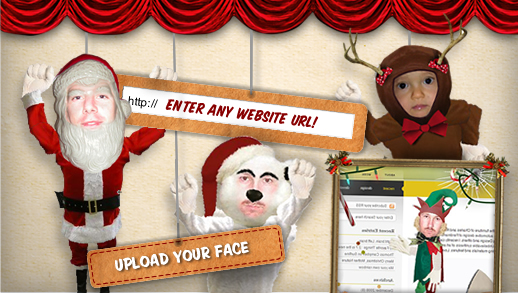 Santa Clause pounding on the heads of elves. Elves lighting each other on fire. Snowmen throwing down with reindeer. And, all this taking place right on your homepage. It's hilarious. But, what gives?
It all started in a Ninthlink Co-Lab meeting sometime around Halloween. We wanted to do the third, in a trilogy of three, Christmas promos that started back in 2006. But this year we decided to throw out all the stops. Make a smash hit! Our goal was to do something that had never been done before. Not by us, or anyone else for that matter.
Our researchers got busy finding the technology we needed to accomplish our crazy goals. We found it. Buried–hidden in the cyber-world. We pounced on it.
We combined it with a couple other sources and-ho, ho, yeohoza-we had something new an d completely proprietary to Ninthlink.
In tandem with the technical gurus, here at "The Link", our creative guys got fired up with the Christmas Spirit. Characters were developed and given personality, photo shoots captured the various costumes needed, the online "stage" on which all the pandemonium would take place was created, story boards and copy were perfected, and the long task of building the thing was lovingly and painstakingly undertaken.
So what do you do? First grab and upload any homepage off of any website. Customize it with characters and action. Place you and your friends' faces on the characters. Then invite your friends to view the "Xmash."  Share it. Give it as a gift. Have fun mashing away.
So how do you get started? Get your mash on at merryXmash.com, if you dare, and stomp away!
Merry Xmash from Ninthlink.