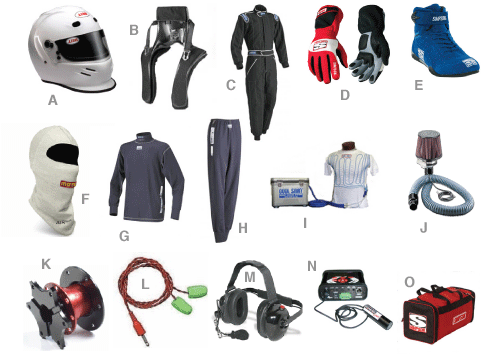 WARNING: Don't Use This to go Get Groceries. But, it's Standard on the Track.
I'm very thankful, and so is my family, that I participate in a sport that, while it is inherently very dangerous, places a ton of emphasis on safety. In this sport "Go Fast" is trumped only by the safety of the drivers, crews, and spectators. There ate 2 aspects to "driver prep and safety". First: A driver must be physically, mentally, and experientially prepared. We will not cover this aspect here, but suffice it to say that it is profoundly important. Secondly: A driver must be prepared with the latest in safety technology. Please refer to the chart above. A helmet (A) is probably the single most important piece of safety gear in the arsenal. Helmets are high-tech, highly researched and developed, and can easily cost in the $800. to $2,000. range. The Hans Device (B) is relatively new to auto sports and is required by most sanctioning bodies. It protects the driver's head and neck in the event of a rapid deceleration (crash). A proper, fire-resistant driving suit (C) protects the driver in case of an on-board fire. Gloves (D) and shoes (E) provide grip and additional fire protection. Drivers also wear fire-resistant underwear, including a balaclava (F), a long-sleeved shirt (G), and pants (H). Some additional items include things like Cool Shirts (I) and cold air blowers (J) to keep the driver cooled down. Last year, at Willow Springs Raceway, I saw track temperatures at around 120 degrees and in-car temperatures as high as 130 degrees. A quick release device (K) allows for the quick removal of the steering wheel. Communication between the driver (L) and his crew (M) is critical to safety, as track conditions, or accidents, can be communicated in real time. In-car camera systems (N) can provide great post-race debriefing material. It can also supply great, recorded information about any incidents on the track. Finally, gear bags (O) are a good way to keep everything together and in good, clean working condition. Next time – My final BLOG in this 10 part series – Basics 10: "Racing is Life".

It's important that your online business is fast, nimble, aggressive, well prepared, competitive, and constantly winning. But, safety trumps all of that. How do you win and be safe at the same time? Just like in racing it's a matter of being physically, mentally, and experientially prepared, and… Having the right "equipment". Ninthlink can design, build, and supply the exact type of equipment you need.
I'm Larry. On the weekends I'm either driving a race car or teaching someone else how. During the week I'm the Creative Director at Ninthlink. Flag us down. Let us help you find your your correct position in the market place. And get you on a winning track with your online business. Call to action: Let's get you moving. Email me at: [email protected].
Are You Safe?
Do not attempt. Professional branders on a closed course.