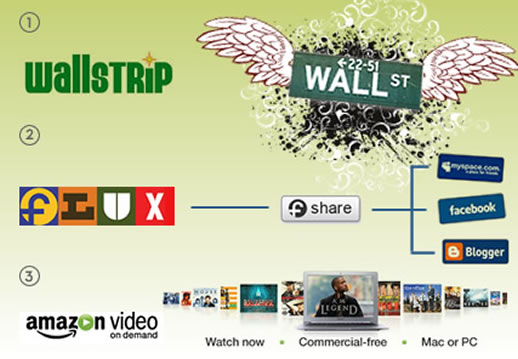 We're always looking for the hottest in new websites. Here are three that we think you'll find fascinating and potentially useful:
Hip, Sexy Trading
Wallstrip.com. This "is where pop culture meets stock culture." Every Monday, Wednesday, and Friday, host Julie, usually wearing something revealing, gets on the web and podcasts and examines a company whose stock is trading at or near an all-time high. She tries to find "the real world trend" that explains why the stock is doing so well. Good for the young new day trader with an account and an itch to invest.
More Amazon Offerings
Now, you can find full episodes of NBC TV shows available prior to their premieres on Amazon's new YourFavoriteShowsStore portal—this is meant to be a one-stop shop for all things related to your favorite TV shows including books, merchandise, DVDs, and digital downloads from the Amazon VOD store.
Click on a particular show such as Battlestar Galactica and dated episodes pop up for immediate download as single episodes or entire season. Amazon has also thrown up some video interviews of TV show creators and cast members, as well as a new TV-themed blog and a page dedicated to the Primetime Emmys.
For years Amazon has had the same interface and navigational tools that proved not to be user-friendly to some customers. Its PC-only download store died on the vine. These developments are a step in the right direction as the company tries to differentiate its service by combining resources from different divisions. Now what's needed is a killer recommendation engine designed specifically for television consumption.
We can lean from Amazon's apparent mistakes when developing a new website, or re-vamping your old website. One thing Ninthlink focuses on is user friendliness when creating a website that is aesthetically pleasing and quickly directs consumers and clients to what they need.
Get Fluxed!
MTV continues to exhibit that it is at the forefront of what's new and hot. Viacom, which owns MTV, announced Monday, September 22, that it has turned its minority stake in software company Social Platform into a full acquisition: Social Project, formerly known as Tagworld. It is now the basis for Viacom's Flux.
Called the "bloglog for the cooler kids," Flux was launched Flux just over a year ago — it provides community features across the company's family of brands including MTV.com, Atom.com, Comedy Central.com and the newly redesigned ColbertNation.com. The benefit for users is to provide portability of data across multiple networks so you don't have to register a bunch of times.
We have been championing the importance of social networking sights and how they enhance a company of product's online presence. MTV knows what's what out there – have you thought of adding a social platform to your company?
If so, we'd love to talk to you about it. Remember: you can get a free 30 minute phone consultation on any of these matters.