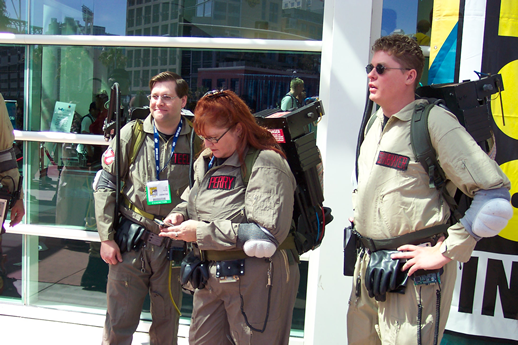 It's been two weeks since the International ComiCon and we're still catching our breath from all the excitement and wonderful chaos, and many people and businesses are getting ready for ComiCon 09!  This is a testament to what a major cultural event this annual gathering has become.
"I save my money up all year for this," one attendee was overhead while standing in line to get pizza provided by Pizza Hut.
Homegrown to Hollywood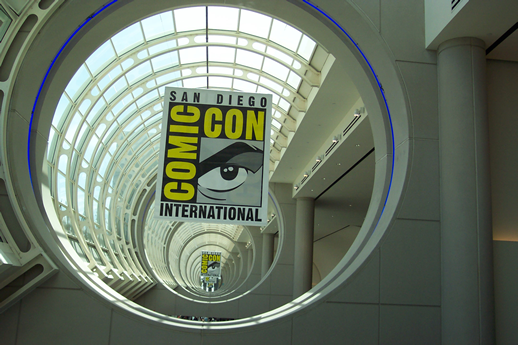 "The recession doesn't seem to affect people buying stuff," another attendee was overhead while in line to make purchases at Bud's Planet and Books.
"What started off as a Mom and Pop event has now gone Hollywood," says Ninthlink's Jeromy Stallings. The event was founded as the Golden State Comic Book Convention and later the San Diego Comic Book Convention in 1970 by Shel Dorf and a group of San Diegan booksellers, comic book collectors, and fans.  In the 1990s, it was renamed the International ComiCon because it was no longer a local event attractive those in California, but was bringing in 10,000 new people a year from all over the world, as well as attracting Hollywood and other entertainment businesses as a venue to test out, announce, or present new products and movies.
Summer Blockbusters Look to San Diego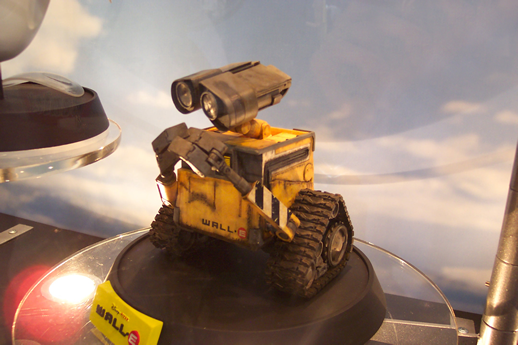 Today, Hollywood often waits until the summer, on or near ComiCon, to release movies about that are fantastic, science-fictional, horror-based, or about superheroes. Look at the films that came out this summer—The Incredible Hulk, Iron Man, The Dark Knight, and Hancock.  Films such as Sky Captain and The World of Tomorrow and Catwoman have had special screenings for the press and industry players in the Hyatt and Marriott Hotels during past Cons.  Sneak peak events and giant banners of new movies, shows, and gaming products are found all over the Convention Center, outside it, and around downtown San Diego.
The Con has put San Diego on the cultural and entertainment map for the past thirty years, and is a significant event for many locals.  "I went to my first ComiCon when I was 11, long ago," says local writer and SD Reader journalist Michael Hemmingson. "Back then it was held at the old convention center on C Street.  My mom had dropped me off at the wrong place and I was lost.  Fortunately, a Con volunteer, Jackie Estrada, noticed I was lost and escorted me to the right place. Years later, Jackie has risen to the top ranks of those who run the Con.  It was held in one ballroom, filled with used book and comics dealers. There were no publishers or movie studios. Writers and artists mingled freely with fans without security of free of being mobbed."
Career Artists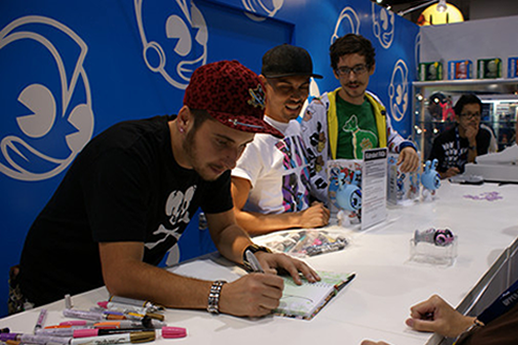 Many young and fledgling artists have been discovered or began careers at the ComiCon.  Various publishers, video game creators, and product manufacturers from HASBRO to DC Comics have portfolio reviews, offer workshops on how to get their attention, and have scouts roaming the Artists Alley and Artists Auction looking for new talent.  Freddie E. Williams II held a panel on the dos and don'ts of breaking into the industry—three years ago he was unknown and was found through the DC Comics Talent Search at ComiCon, and now draws for The Flash, Robin, and Mister Miracle.  Some of his advice: don't have more than 20 pages in your portfolio, do have at least four pages of a story to show continuity, meet your deadlines, and work fast—some artists have only 2-3 weeks to create a 22-page monthly serial.
A Convergence of Culture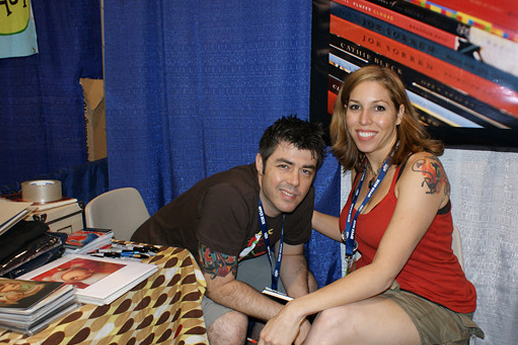 Nowhere else in the world will you find the hopeful young artist mingling about with fans, movie stars, well-known artists and writers, book dealers large and small, coupled with major ad and viral campaigns for new shows such as Samurai Girl, and the new drink True Blood®, which is supposed to be a blood alternative for vampires ("reminds vampires to drink responsibly") and part of a new series on HBO.
Of course, our very own Murphy Books had its own booth at the Con, selling fantastic  titles and limited edition "zines" created especially for the event, surrounded by publishers large and small, from Random House's Del Rey Books and its many major authors to the small Angel Gate Press and its Black Tide comic book series.
Where else can fans come and meet the actor who played Vice Principal Van Clemmons from Veronica Mars (filmed in San Diego) to Lou Ferigno, the original green-painted Hulk from the 1970s TV show, to Fox's 24 actor Keifer Sutherland, the entire cast of NBC's Heroes, and the man who originally created The Joker for DC?
Growing Fast!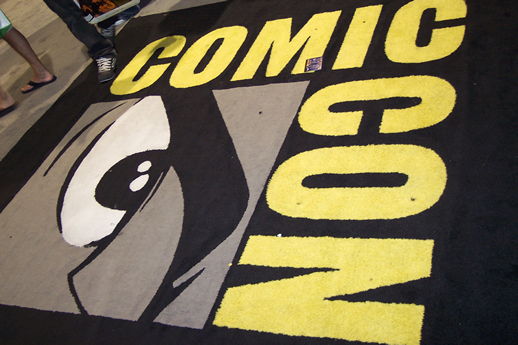 The ComiCon spans the entire length of the Convention Center, and spills into all local hotels with after hours films and gatherings. The event brings in significant revenue to the downtown's businesses and is a trigger finger on the culture of entertainment and art and all the new changes that happen in this exciting and vibrant industry.
Do you have a Con story you wish to share—a revelation, a wonder, a brush with someone famous?  Tell us about it in the comments section below.