Functionality and usability are the two categories that have been driving the growth of Ecommerce development through the previous years, but what does that mean exactly? Well, everyone has his or her own interpretation on that answer, but we're hoping to explain it in a way you have never seen or heard before. So without further ado, I give you the 4 'abilities.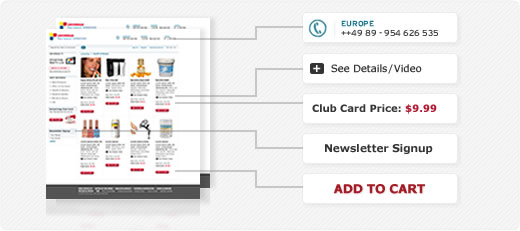 1/ Experience-ability: Integrating Flash and JavaScript content into your Ecommerce site creates an interactive brand/product experience that helps users engage with what you are trying to communicate to them.
2/ Share-ability: The most widespread use of the Internet today is information searching. Also, a person is 50% more influenced by word of mouth than mass advertising. Enabling your Ecommerce with social bookmarking/sharing tools like Facebook/Digg/Delicious, or Comment & Rating tools lets 'em spread the word. You can also add some JavaScript rollovers to make the experience that much more fluid and sexy.
3/ Suggest-ability: Ecommerce is a great tool to expose your visitors to new and/or complementary products that they may or may not have tried yet. You can either do it by product association or by building a customer profile. You study this at Ecommerce website training courses, piece of cake.
4/ Widget-ability: How do your customers shop on your site? Do they wait for sales? Do they buy only the newest featured items? Develop widgets that alert your customers based on what drives their motivations to buy.
What do you think about the 4 'abilities? Share your thoughts!