ARE YOU READY FOR MOBILEGEDDON? GOOGLE ANNOUNCES LATEST UPDATE WILL PUNISH WEBSITES WITHOUT A MOBILE EXPERIENCE.
How Will Your Website Be Affected?
On April 21st, Google is making a major change to its search algorithm, or in other words, the way it ranks websites that come up when people use their search engine, especially on mobile devices.
"Starting April 21, we will be expanding our use of mobile-friendliness as a ranking signal. This change will affect mobile searches in all languages worldwide and will have a significant impact in our search results." What does this mean? Well effectively, if you have a website that is mobile responsive or if you have a separate mobile website you will be fine and in fact, may actually see a boost in your organic ranking on Google and if you do not, you will likely see your organic ranking go down. For those of you who do not have a mobile site experience, this is your chance to do something about it.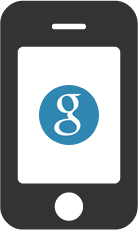 AREN'T SURE IF YOUR SITE IS MOBILE FRIENDLY? USE GOOGLE'S MOBILE FRIENDLY TEST TO SEE IF YOUR SITE MEETS INITIAL QUALIFICATIONS:
So, What Are Your Options?
If you haven't yet implemented a mobile strategy for your online presence, now is a critical time to start. While it is technically possible to add responsive elements into an existing website, we recommend one of the following:
1. Develop a Separate Mobile Site
This is separate from your existing website and is presented specifically to users when they access your site from a mobile device.
2. Develop a Mobile Responsive Site
Your site's content will automatically configure itself to the optimal size depending on the device a user is accessing your site on, whether it's a smartphone, tablet, or large desktop monitor. Google has supported having a mobile-responsive website over having a dedicated mobile website as it makes for a better user experience and is less prone to errors.
Help Us Help You. Contact Us Today!
Please fill out the form below if you would like us to reach out to you about the mobile solutions that Ninthlink has to offer.
[contact-form-7 id="11701″]
We are here to help. Call us to learn more about what the changes mean for your website.
Give Ninthlink a Call at 858.427.1470