gogawi
Setting the standard for betting on ESL game tournaments
In 2017 we had the opportunity to create a fresh new take on gambling. With the rise of Electronic Sports Leagues gaining global recognition as an official sport. It was time the world needed a platform to place wagers on games in an intuitive user experience.
Brand Identity
& Style Guide

The name "gogawi" is the sum
of three parts. Go. Game. Win.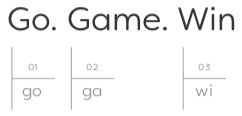 Focused on the playful nature of the "gg". In the gaming world the "gg" is an acronym for good game.